Blogs
January 16, 2023
Sustainability in India: The need of the hour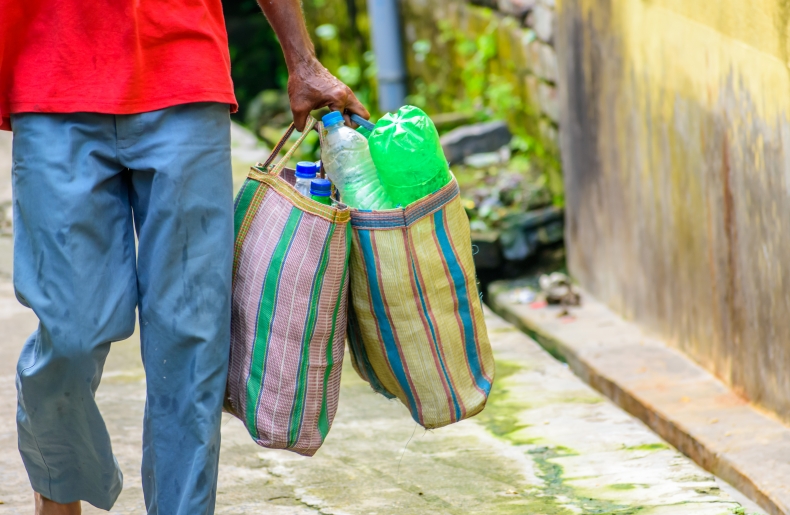 In 2019 during India's Independence Day speech in Delhi, Prime Minister Narendra Modi vowed to ban single-use plastics and called on citizens of the nation to make an effort to eradicate plastic waste and urged businesses alike to support this movement.  However, with the COVID-19 pandemic, there has been an unprecedented change in consumer consumption patterns with a shift in priority towards personal hygiene over environmental concerns and pollution.  The pandemic effectively put the plastic ban and other regulations to increase recycling on temporary hold in favour of combatting the pandemic.  Despite the delay, India has finally imposed a ban on single-use plastics on items ranging from straws to cigarette packets in 2022, as a move to reduce plastic waste in the country.
What Now?
Demand for key plastics in India is approximately 24 million tons and plastic demand is forecast to grow close to the country's GDP.  In 2021, India was estimated to have generated approximately 15 – 20 million tons of plastics waste.  At present, it is estimated that less than 15 percent of plastic waste is being recycled or upscaled.  According to India's Central Pollution Control Board (CPCB), recycling or upscaling of plastics can be achieved in methods such as:
Primary recycling: Conversion of waste plastics into products having a performance level comparable to that of original products made from virgin plastics
Secondary recycling: Conversion of waste plastics into products having less demand performance requirement than the original material
Tertiary recycling: Process for producing chemicals / fuels / similar products from waste plastics
Quaternary recycling: Process for recovering energy from waste plastics by incineration
India's plastic waste recycling related rules and regulation began with the Recycled Plastics Manufacture and Usage Rules 1999, followed by the Plastic Waste (Management and Handling) Rules, 2011, and the Plastic Waste Management (PWM) Rules 2016.
Timeline - Plastic use regulations in India
The PWM 2016 Rules mandate plastic waste generators to segregate plastic waste storage at source and dispose of segregated plastic waste in accordance with the directive.  Segregation of plastic waste is vital to the recycling efforts as plastic undergoing mechanical recycling are recycled by types of plastic and should not be mixed.  There have been three amendments to date made to the 2016 PWM Rules.
Timeline for plastic waster, related rules in India
(Source: CPCB, MoEF
The main features of the PWM Rules and its amendments are to minimise waste generated through banning single-use plastics by involving stakeholders such as local bodies, manufacturers of plastics, and waste processors.   
What's Next?
In addition to the PWM Rules, India has partnered with the UK to launch the India Plastics Pact (IPP) which is similar to the Plastics Pact in the UK.
The IPP's targets to be achieved by 2030 are:
Define a list of unnecessary or problematic plastic packaging and items and take measures to address them through redesign and innovation
100 percent of plastic packaging to be reusable or recyclable
50 percent of plastic packaging to be effectively recycled
25 percent average recycled content across all plastic packaging.
These targets are intended to be achieved through collaboration with stakeholders, such as fast-moving consumer goods businesses, recyclers, and supporting organisations, and by increasing stakeholder engagement, this could translate into businesses participating in the recycling measures.  For example, businesses have been known to introduce a collection scheme where customers return the waste plastics from their products in exchange for a form of rebate.
In India, plastic recycling is mostly done by the informal sector through secondary recycling in the form of the mechanical recycling method.  Plastic wastes are sorted, cleaned, melted, and then made into pellets for further use in products but will be of lower performance compared to the original material.  Tertiary and quaternary recycling that are currently implemented through Indian state actions to upscale plastic wastes are:
Utilisation in road construction. Plastic waste is mix with bitumen for the construction of roads in the country. Several roads have been constructed using this method, such as Andhra Pradesh, Karnataka, Tamil Nadu, Himachal Pradesh, Nagaland, West Bengal, Pondicherry etc.
Co-processing as alternative fuel and raw material (AFR). Co-processing of waste (municipal waste and solid waste) in industry process such as cement and power stations or any other large combustion plants.
Conversion into liquid refuse-derived fuel (RDF). Non-recyclable plastic is mixed with municipal solid waste (MSW) and used as a feedstock for the boiler in waste-to-energy (WTE) plant for power generation.
Disposal through plasma pyrolysis technology (PPT). In plasma pyrolysis, high temperature is used to destroy plastic waste in an efficient and eco-friendly way.
Although India has announced laws and policies, enforcement has been relatively weak.  The implementation of the PWM Rules and other regulations have been left to individual states and local governments in India.  There has been very limited impact in reality due to the dependence on plastic goods.  India recycling rates are expected to remain low with overall consumption of recycled polyolefins also projected to make up a small proportion of total polyolefin demand. 
The outlook for recycled polyolefins demand in India is heavily dependent on government policy supporting recycling efforts as well as enforcing policies.  In the short term, key forecast drivers include:
Supply availability of recycled plastics
Growth in demand for recycled plastics (L/LLDPE anticipated to drive growth in the short term)
Regulations that stipulate the use of recycled plastic contents in manufactured plastic products
Banning the use of non-recyclable plastics
In conclusion, it will take time for the Indian domestic recycling industry to ramp up recycled resin production, due to a feedstock limitation.  As such, in the short to medium term, virgin polymer manufacturers will continue to be the most prominent suppliers of domestic plastic resin.  The future of plastics recycling in India is heavily dependent on not just the policies but the implementation and enforcement of these policies to improve waste handling, collection, and recycling.
There are no easy solutions to plastic recycling in India, or globally.  However, with great efforts from both the government and investors, this challenge can be solved, but we have no time to lose. 
Find out more…
Market Insights: Recycled Polyolefins – 2021 provides analysis and forecast to 2035 of the global recycled polyolefins market, including supply by mechanical method and chemical processes and demand by product and end use.     Market Insights: Recycled Polyolefins - 2021 includes discussion regarding key market drivers and constraints, as well as demand analysis for nine regions: North America, South America, Western Europe, Central Europe, Eastern Europe, Middle East, Africa, Asia Pacific, and China.  Analysis also includes the competitive landscape, capacity listing and cost competitiveness along with a snapshot of latest pricing trends by region and price forecasts to 2035.
Market Analytics: Polyolefins - 2022 (December update) provides analysis and forecasts to 2045 of supply and demand of the global polyolefins markets, including low density polyethylene (LDPE), linear low density polyethylene (LLDPE), high density polyethylene (HDPE) and polypropylene.  This analysis identifies the issues shaping the industry as well as provide detailed demand breakdown by end-use and supply, demand and net trade data for 40 countries.
The Authors...
Kai Yuan Teo, Consultant
Ian Lee, Analyst
---
About Us - NexantECA, the Energy and Chemicals Advisory company is the leading advisor to the energy, refining, and chemical industries. Our clientele ranges from major oil and chemical companies, governments, investors, and financial institutions to regulators, development agencies, and law firms. Using a combination of business and technical expertise, with deep and broad understanding of markets, technologies and economics, NexantECA provides solutions that our clients have relied upon for over 50 years.