July 22, 2020
CMT Event - Impact of COVID-19 on the Global Phenol Market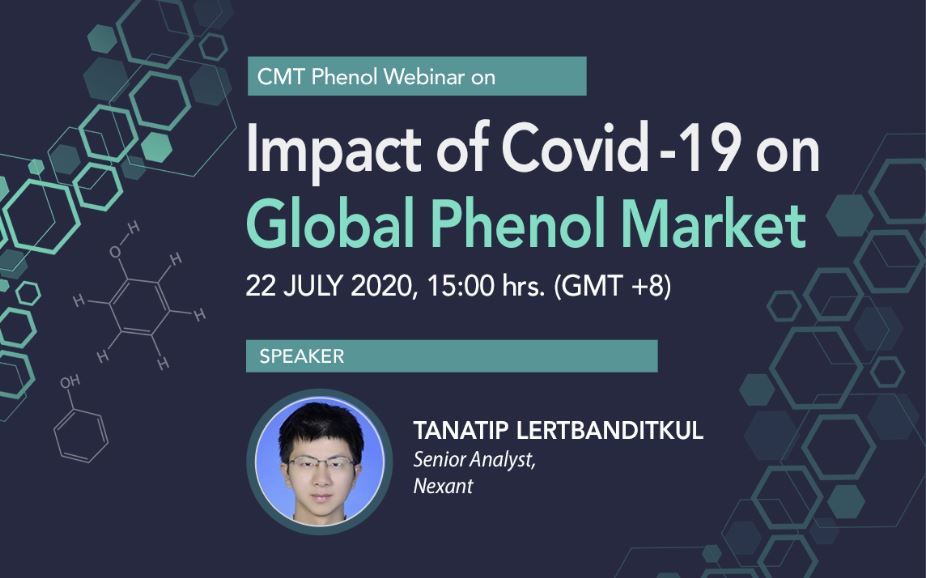 Join us for the Centre for Management Technology (CMT) Phenol Webinar on July 22, 2020 at 3 p.m.
NexantECA's own Tanatip Lertbanditkul will be speaking on
Impact of COVID-19 on the Global Phenol Market.
COVID-19 has disrupted the global economy, affecting all downstream industries for phenol and derivatives.  However, despite the crisis having a negative impact on downstream markets, it has also created new opportunities for chemicals within the phenol chain.  As an intermediate, phenol producers have to understand the current market situation due to the impact of COVID-19, create forecasts regarding recovery, and plan near-term strategies in response to the pandemic.  On conclusion of the presentation, participants will have the opportunity to post any questions they have during a live Q&A session.
---
About the Presenter:
Tanatip Lertbanditkul
Tanatip is a Senior Analyst in Nexant Energy & Chemicals Advisory in the Asia Pacific region.  Tanatip is a key member of NexantECA's Subscriptions & Reports team in Asia Pacific and has been involved in a diverse set of consulting assignments.  He has been involved in several Market Analytic Reports covering several petrochemical products including propylene derivatives, polyurethane intermediates, polyolefins, and olefins.  He has managed the Market Analytics: Phenol Chain report since 2019.  Tanatip also holds Bachelor Degree in Engineering from Chulalongkorn University.