December 08, 2020
EVENT - BBTC MENA & ME-CAT 2020 by Euro Petroleum Consultants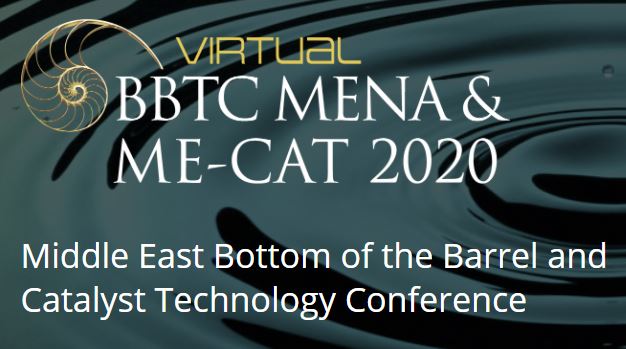 This year, NexantECA's Andrew Inglis and Thomas Heinrich will be part of the conversations taking place at the BBTC MENA & ME-CAT 2020 which will be held online and will include residue upgrading and catalyst technologies related topics and will give catalyst suppliers, licensors, contractors, service providers and operating companies the unique opportunity to learn about the latest developments in the sector.
In today's downstream industry increasing conversion to curb low-value fuel oil production remains a key objective for many existing and grass-root refining facilities. There is a clear drive and commitment on improving product specifications, increasing conversion, reducing emissions and increasing margins - Upgrading the Bottom of Barrel remains of the utmost importance and central to achieving targets and results.
Along with that, catalytic processes are very much at the heart of all refineries and petrochemical complexes - with the continued drive for increased integration, the number of units using modern catalysts has increased significantly.
About Us - NexantECA, the Energy and Chemicals Advisory company is the leading advisor to the energy, refining, and chemical industries. Our clientele ranges from major oil and chemical companies, governments, investors, and financial institutions to regulators, development agencies, and law firms. Using a combination of business and technical expertise, with deep and broad understanding of markets, technologies and economics, NexantECA provides solutions that our clients have relied upon for over 50 years.
---
About the NexantECA Presenters
Andrew Inglis, Vice President
Andrew Inglis is Vice President at Nexant Energy & Chemicals Advisory, based in London.  He is responsible for Energy and Fuels in EMEA in addition to globally coordinating Nexant's Transaction Support (M&A) advisory service.  He has fifteen years of industrial and consulting experience. Andrew has advised on numerous multi-billion dollar project finance assignments, M&A transactions, feasibility studies and other technical, commercial and environmental studies.  Whilst he is focused towards downstream/refining assignments he has a depth of experience in infrastructure, petrochemicals, chemicals and emerging energy alternatives.  He is experienced in advising clients at board/corporate level. 
Thomas Heinrich, Managing Consultant
Thomas Heinrich is a Managing Consultant with Nexant's advisory business unit in Bahrain. He holds a Master's degree in Economics from Cologne University. Thomas has been project manager for many petrochemical, refining and fertilizer feasibility studies globally. He has been involved in M&A and project finance transactions as both market and technical advisor regarding projects along the chemical and refining value chains. He recently published a substantial report on potential changes in the transport sector as a result from hydrogen use as an energy carrier. He has been involved in many market studies on petrochemical, refining and fertilizer products. Thomas is a frequent speaker at industry conferences and is involved in facilitating Nexant's industry training programs.