November 30, 2022
Olu Shaw will be a guest speaker at the upcoming Thermoplastic Elastomers World Summit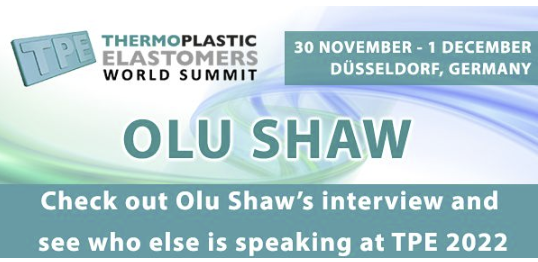 NexantECA's Olu Shaw will be a guest speaker at the upcoming 'Thermoplastic Elastomers World Summit' this 30 Nov - 1 Dec 2022 in Düsseldorf.
Ahead of the summit, Olu was interviewed by organisers to get his views on the TPE industry, and the upcoming summit. You can read his interview by clicking the button below.
---
About Us - NexantECA, the Energy and Chemicals Advisory company is the leading advisor to the energy, refining, and chemical industries. Our clientele ranges from major oil and chemical companies, governments, investors, and financial institutions to regulators, development agencies, and law firms. Using a combination of business and technical expertise, with deep and broad understanding of markets, technologies and economics, NexantECA provides solutions that our clients have relied upon for over 50 years.