November 07, 2023
Rachel Ricky & Buddy de Vos will be speaking at the phenol/acetone & derivatives conference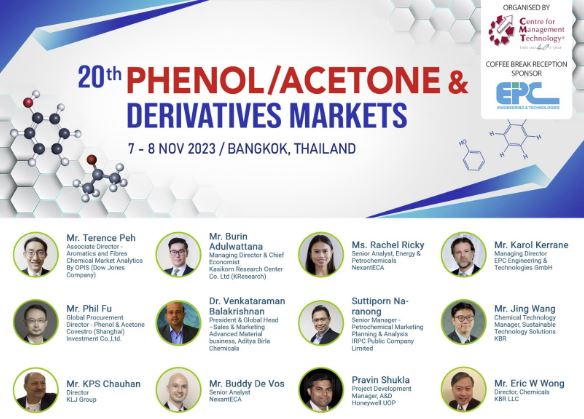 We are very pleased to announce that both Rachel Ricky and Buddy de Vos will be speaking at the upcoming 20th Phenol/Acetone & Derivatives Markets Conference this  7-8 November 2023, in Bangkok Thailand.

CMT's 20th Phenol/Acetone & Derivatives Markets will gather leading industry experts in the Phenol/Acetone value chain to share latest updates and insights in the industry. Get latest updates on :
 
•  Global Phenol & Acetone supply/demand gap, expansion updates & tradeflow dynamics
•  Benzene/Propylene & sustainable feedstocks outlook
•  Sustainable Phenol/Acetone production technology, supply demand forecast & opportunity for green products
•  Derivatives market outlook – BPA, PC, Phenolic Resin, Epoxy resin, MMA, Solvents
•  Recycling of epoxy resin and caprolactam
•  Will China become a major exporter of Phenol & derivatives?
•  Special focus on China, India, SE Asia, Europe & USA
---
About Us - NexantECA, the Energy and Chemicals Advisory company is the leading advisor to the energy, refining, and chemical industries. Our clientele ranges from major oil and chemical companies, governments, investors, and financial institutions to regulators, development agencies, and law firms. Using a combination of business and technical expertise, with deep and broad understanding of markets, technologies and economics, NexantECA provides solutions that our clients have relied upon for over 50 years.