News
Edinburgh
Monday, February 27, 2023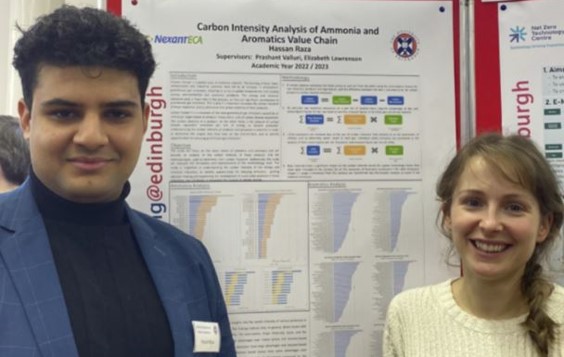 Everyone at NexantECA is incredibly proud to have supported the University of Edinburgh School of Engineering) on their industrial placement scheme in 2022. 
Last week NexantECA's Elizabeth Lawrenson went to watch the final poster presentation delivered by undergraduate Hassan Raza on carbon intensity analysis.  We wish Hassan and all Edinburgh Chemical Engineering final year students well in their journey going forwards. NexantECA is a leading provider of carbon intensity analysis through its consulting and S&R businesses and is delighted that Hassan could play a part in this
Find out more...
Low Carbon Intensity Ethylene - A Technoeconomic and Carbon Intensity Study
This report compares the various options for lowering carbon intensity of aromatics production (benzene, toluene, mixed xylenes, and para-xylene) via technoeconomic, carbon intensity, and strategic analysis. Regional cost and carbon intensity baselines, comparative carbon intensities of decarbonization configurations, cost of productions, and impacts of carbon tax/credits on competitiveness (including break-even values) are analyzed across four regions: US, Brazil, China, and Western Europe. Additional regions/countries are available as an add-on.
---
About Us - NexantECA, the Energy and Chemicals Advisory company is the leading advisor to the energy, refining, and chemical industries. Our clientele ranges from major oil and chemical companies, governments, investors, and financial institutions to regulators, development agencies, and law firms. Using a combination of business and technical expertise, with deep and broad understanding of markets, technologies and economics, NexantECA provides solutions that our clients have relied upon for over 50 years.