November 16, 2021
Daniel Saxton to be a guest speaker at the UTECH 2021 Conference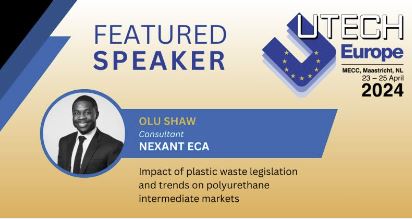 NexantECA Consultant Daniel Saxton will be a guest speaker at UTECH European exhibition this November16-18. Giving his views on the question, "How sustainable is the polyurethane value chain?"

"The threat of climate change and plastic waste to global ecosystems has led to calls by the public and government to reduce global greenhouse gas emissions and improve plastic recycling efforts. The finger has been pointed at the petrochemical industry to clean up its act and while efforts have been ongoing for a long time already, the immediate future is likely to see a ramp up in energy and investment in this area. So, what does this mean for the polyurethane industry?" 
This presentation will look at the current state of sustainability in the sector and explore the possible pathways to a net zero future.
About the Speaker
Daniel Saxton is a Consultant at NexantECA based in the London office.  Daniel has worked with NexantECA for the last three years and has supported feasibility studies, project finance and strategy assignments within the polyurethane industry. 
He leads the technical and commercial aspects of NexantECA's analysis into isocyanates and polyurethanes.  Before NexantECA, Daniel worked in the refining and pulp & paper industries and holds a MEng in Chemical Engineering from the University of Manchester. 
---
About Us - NexantECA, the Energy and Chemicals Advisory company is the leading advisor to the energy, refining, and chemical industries. Our clientele ranges from major oil and chemical companies, governments, investors, and financial institutions to regulators, development agencies, and law firms. Using a combination of business and technical expertise, with deep and broad understanding of markets, technologies and economics, NexantECA provides solutions that our clients have relied upon for over 50 years.